Top Selling Sports Chairs
Top Selling Sports Chairs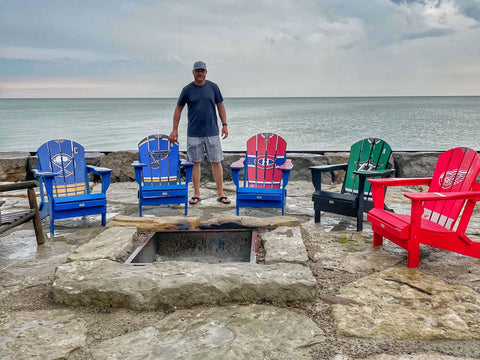 When you think of sports chairs, what do you picture? If you're like most people, the first thing that comes to mind is a plain fabric fold-up or a lightweight plastic chair that leaves a lot to be desired in terms of comfort. But today's sports chairs have come a long way from those basic designs.
Sports chairs are now more customizable than ever before—and they're only getting better! My Custom Sports Chair creates chairs that are more than a decorative piece of memorabilia–these customizable and durable outdoor leisure chairs are 100% Canadian made and manufactured, tested to stay out in all weather conditions and they use professional-grade vinyl print technology to make sure that your favourite team's colours will look great for years to come.
In this article, we'll be taking a look at some of the best sports chairs available in Canada today. These chairs are not just comfortable and supportive, they also allow you to show off your love for your favorite teams and players.
Best Selling Sports Chairs - Leagues and Teams
National Hockey League (NHL) Team Chairs
Among hockey fans, there is no shortage of passion for their favorite teams. For many, their team allegiance runs deep, often passed down from generation to generation. As a result, it's no surprise that customized hockey team chairs are very popular with hockey fans. 
When it comes to which team's chairs are the most popular, it's a close race between the Toronto Maple Leafs, Montreal Canadiens, Boston Bruins, and Pittsburgh Penguins. All four teams have a large and loyal following, and fans are always eager to show their support. Whether it's cheering on their team from the comfort of their own home or showing up to the arena decked out in team gear, hockey fans take their team pride seriously. With so much enthusiasm for these four teams, it's no wonder their chairs are in high demand.
National Football league (NFL) Team Chairs
NFL chairs are a top selling item for football fans of all ages. What better way to show your support for your favorite team than to display their colors and logo for all to see? And with so many teams to choose from, there's sure to be an NFL chair for everyone. Some of the top selling teams include the Buffalo Bills, New England Patriots, Green Bay Packers, Kansas City Chiefs, and Las Vegas Raiders. So whether you're a die-hard fan or just a casual observer, make sure to show your team spirit with custom football team sports chairs. 
Major League Baseball (MLB) Team Chairs
The top selling MLB chairs are the New York Yankees, Boston Red Sox, Toronto Blue Jays, Philadelphia Phillies, and Houston Astros chairs. All of these teams have strong fan bases and are consistently near the top of the standings, making them popular choices for fans looking to purchase MLB chairs. These teams also have some of the most storied histories in baseball, which only adds to their appeal. Whether you're a diehard fan or simply looking for a comfortable place to watch the game, customize your favorite baseball team chair today!
Order Your Custom Sports Chair Today!

My Custom Sports Chair is the place to go for custom sports chairs and a whole lot more. Our selection of custom chair themes includes every team from the NHL, the NFL, and MLB, as well as a wide range of other options including bar stools, bar tables, end tables, and footstools!

Whether to offer the avid fan in your life a gift they will cherish, or just to treat yourself, our traditional adirondack-style folding chairs let you show team pride and make for a great spot to enjoy the game! Find your favourite team here!

'